Let's start with some eye candy....
December 24th, 2010
Written by:
Quail Hunter
Published on December 24th, 2010 @ 09:37:38 am , using 704 words, 70789 views
Let's start with some eye candy....  Here are some guns from my personal collection.  We are going to end with a very special project, converting a 12ga sxs to a 45-70 double rifle.
Follow up:

Bob Elliot has written 2 fine books about the Lefever guns.  I have published a few articles in the Lefever Collectors news letter.  There is currently a book in the works that I have been asked to help co-author.  It will not be published for a few years as I understand things...
Lefever G 12ga 1904
Fox Sterlingworth 16ga 1924
Ithaca Crass 12ga 1896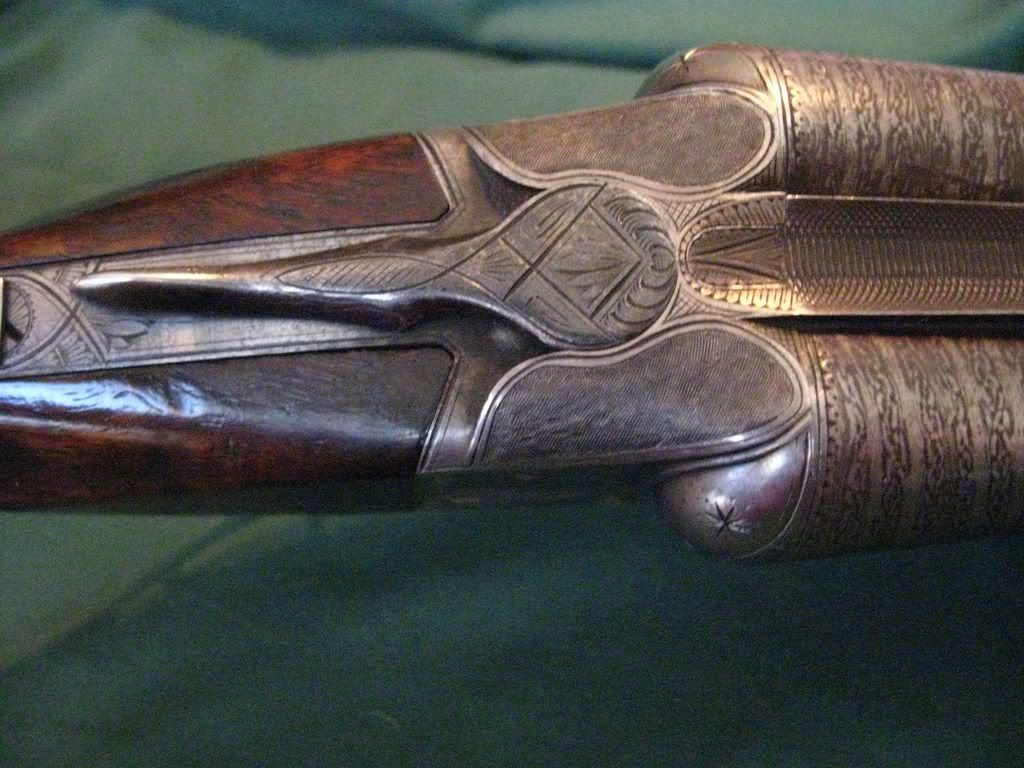 Husqvarna Model 51 12ga 1943
Pieper Bayard 28ga 1948
Pieper Diana 12ga 1881. I am currently working on an article about Henri Pieper, his accomplishments and his legacy.
Meriden 12ga 1910 more about this later
A 44XL from 1915. Actually a 2" .410. Shoots about 1/2 oz of shot.  The 44XL was the American path to the 410.
My 1st drilling. A guild gun from about 1900. 16x16 over 9.3x82r
9.3x82R ammunition has about the punch of a 38-55 or 30-30.
About  Meriden Firearms Company.
The start of the Meriden Firearms Co. in 1905 was the result a merchandising scheme of Sears. They operated out of warehouses, with no retail overhead like other previous businesses. They sold guns for many name concerns, along with ammunition ammunition. Sears hired A.J. Aubrey to run their gun making operation. He renamed the gun the Aubrey. The guns were engraved by Gough, who also engraved for Fox, Colt, Remington and Parker. - In 1906 Albert is the VP for Sears. - In 1907 his father, John, died on Nov 14th. - In 1908 Albert is President. - By 1910 he is no longer working in Meriden. Albert is in Santa Clara, CA employed in Sporting Goods. - According to the Sears archives, Meriden guns were no longer listed as of the fall 1918 catalog.   In reality, they published a stand alone firearms catalog in 1919.
Shortly after this they sold the factory.  The remaining inventory was purchased by Warner gun company.  I published an article about the Meriden Firearms Company that was publish in the Spring 2010 issue of the Double Gun Journal.
From the 1908 Sears Catalog.
I have been tracking the Aubrey / Meriden guns for awhile now.
http://damascus-barrels.com/Aubrey.html
Henri Pieper was a Belgian gun maker. He is credited with bringing the industrial revolution to the Belgian gun trade. He held many patents. He invented the monobloc, one of the strongest methods for building a shotgun. The Diana uses his 1881 patent, which won awards in Paris.
Here you can see the barrels being screwed into the monoblock. This is one of my guns in the process of being converted into a double rifle.
He later modified the Diana in 1892 with a stronger breech locking mechanism. He sold these guns around the world.
Here is a Sears catalog (1897) selling a Pieper gun.
Here is a German catalog with the same gun.
Pieper was one of the original investors in FN.
A Special Project.
Converting a 12ga to a 45-70 double rifle I purchased a beater 12ga M51 Husqvarna from Ken for this project. http://www.kebcollc.com/ RD Show did the actual conversion.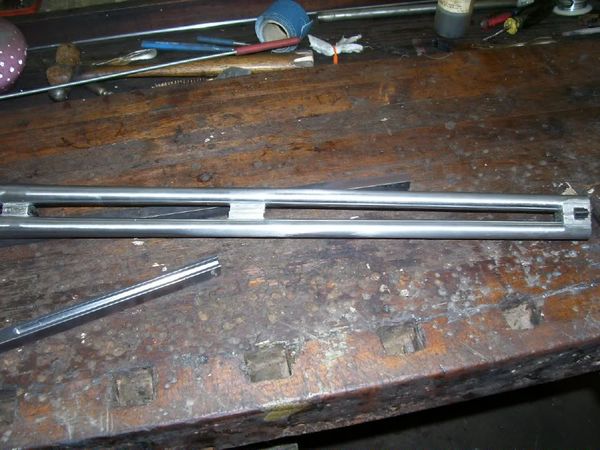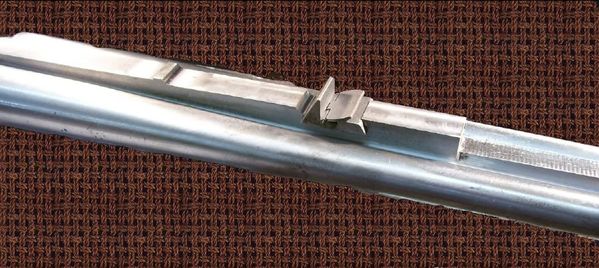 The scope is Redfield Widefield 2-7 that I purchased unused.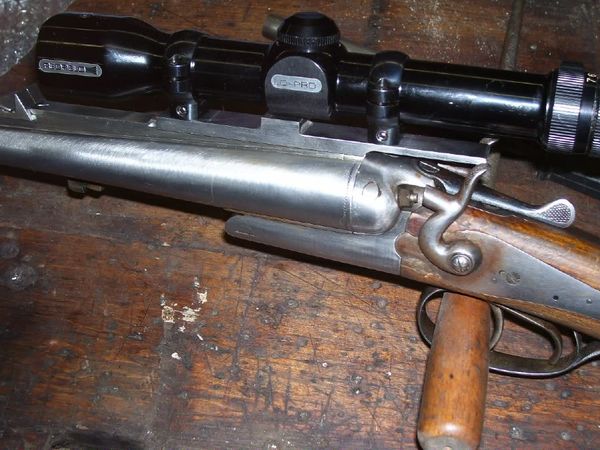 4 shots during the barrel regulation.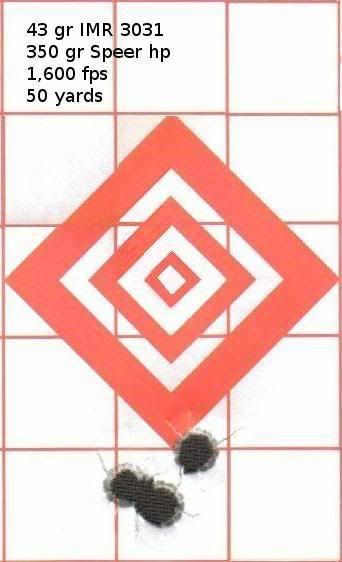 Unfortunately, during the conversion Rich found the stock was cracked: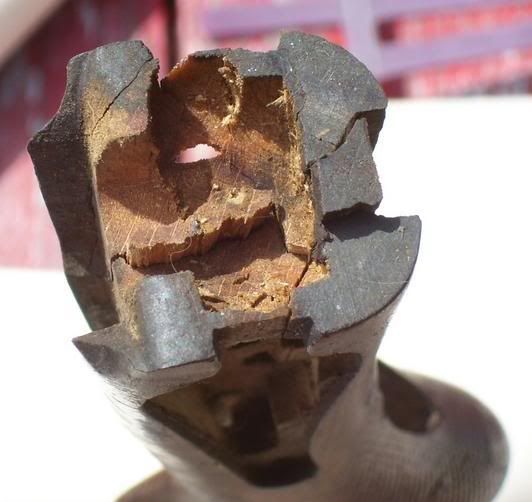 So, I sent the gun off to Dan May to be restocked. Here is the result.
Dan has more pictures up on his website:
http://www.classicgunstocks.com/Husqvarna_45-70.html
Next stop is the range, then on for some Russian boar.
Would I do this again?
Actually, no, I would not. I never intended to "get in" this deep.  My original plan was to purchase a second M51 and use the barrels for the conversion.  The idea was to have 1 gun with 2 sets of barrels, shotgun and double rifle.  Unfortunately, to my horror, I discovered that Husqvarna had changed their frame dimensions and it would be near impossible to pull it off.  So I went ahead with the conversion of the second M51.  That is when we discovered the stock was a mess.  Rich glued it up, but neither of us felt good about.  So, I had to have a new stock custom made.   In the end, I would have saved money if I had purchased a commercial double rifle.  On the other hand, I have 2 matching guns...

Permalink
Leave a comment »
Feedback awaiting moderation
This post has 49 feedbacks awaiting moderation...

Comment feed for this post
Leave a comment