Hey boys, I posted this in the "Out of Town" forum; but, when I fish (which hasn't happened in a long time), you guys and this forum are my home page. Here's a copy /paste below of what's been going on. I'll post a few replies later on with more details and pics about of our new life down in SWFL. Take care and hope you all are doing well.
*******************************************************************
Hey Chitown-Angler friends! It's been a while and I have a had a lot of changes in my life the past year.
Long story short: my wife and I escaped South Bend, Indiana and moved to sunny Southwest Florida Fall 2016. We are in a high rise condo over the Caloosahatchee River in downtown Fort Myers. Sold all of my fishing gear before moving to a kid (young man) that my kids went to HS with. Gave him the deal of the century for all of it but he still gave me quite a bit of cash.
Went out on the Gulf of Mexico yesterday with a couple friends from work and my son Garrett who many of you will know from years of posts. You have to travel a couple hours off shore just to get to 90 FOW in the Gulf (that's where the groupers start to get bigger). We were at least, an hour away from being able to see land. We caught a lot of fish (Red Groupers and Mangrove Snapper). No huge fish landed - I lost a beast. Never got to see it. Garrett got the big fish of the day, a 24" Red. We are eating Grouper Sandwiches today

Anywho, haven't fished in a year. It was great to wet a line. Here's a few pics...
First two pics are of Garrett and his 24" Red. LOL, Garrett got sea sick bringing this fish up. He tossed his cookies right after landing it. We had to put the fish in the cooler for a while, while Garrett recovered. So, the fish lost a lot of color while chilling, waiting for the pics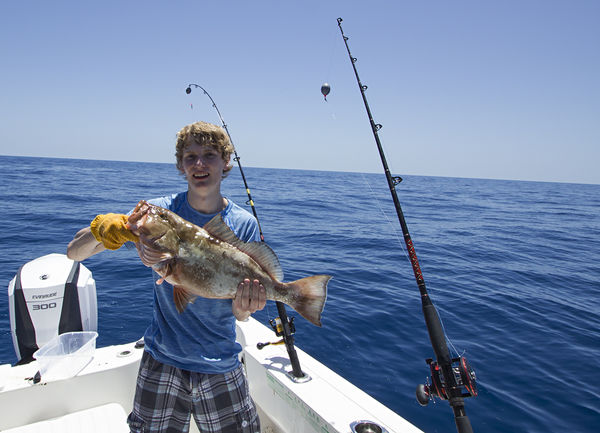 Work friend and boat owner to the left (Bruce)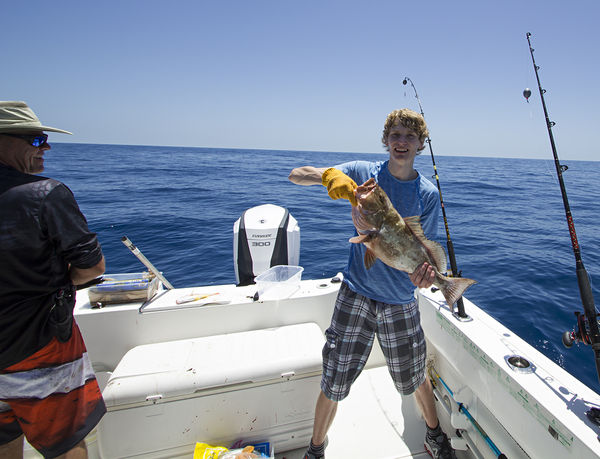 Next few pics are of Walt (friend from work)
Walt cracked up with this double: a little Mangrove snapper and a Red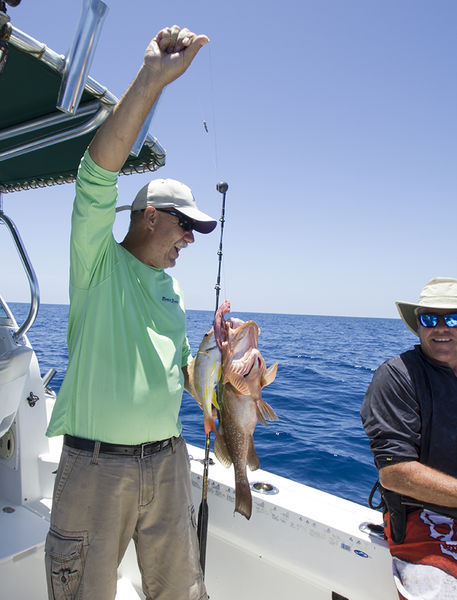 Walt with a nice Red