Good Afternoon Fellow CTAs,
I have been itching to put a big fish on the boat since the ice melted away this year, but just haven't had the opportunity to make it happen. Saturday marked day 60 for fishing this year, but only day three of targeting the elusive musky. I was able to meet up with forum members Musky Baits, and Son-of-John to start my musky season.
We started the morning pounding known musky haunts with a spattering of glide baits, cranks and spinners (provided by Musky Baits). Towards the end of our first drift we had a slow follow on a spinner bait. The fish looked sick, like a zombie king in the harbor. He went to the depths once he saw the boat, but with a little work on the trolling motor we were able to find him again. He played cat and mouse with us for about a half hour, we'd find him make some casts and then he'd go into the depths of the lake only to come up again 30 yards up wind. We could run our baits near him on the right side and get no response, but if our bait ran within 6" of the left side of his face he'd slowly follow or make a half-hearted attempt to swipe at the bait. He moved on four different offerings, first on an umbrella rig on Musky Baits' rod, next on a spinner bait. First time I got his attention I was running a Super Believer in a ghost pattern, he followed all the way to the boat, but the wind pushed us over him before I could start a figure 8. Second time, I had him follow on an inline that I got off of Musky Baits. Again he followed to the boat, but the wind pushed us over him. As we were about to leave to let the fish rest, I bombed a cast out to the area I thought he might be and he was on after a couple cranks of the reel. The fish made a few headshakes, but did not put up much of a fight. He was thick and felt firm, but just looked like he was decaying. Son-of-John got a short video of the fish being netted and coming to boat side, the fish definitely had some energy left in him (is there a way to post a non-youtube video here?). After a measuring him (42") the fish was released, and swam away quickly after only a few seconds of being in the water.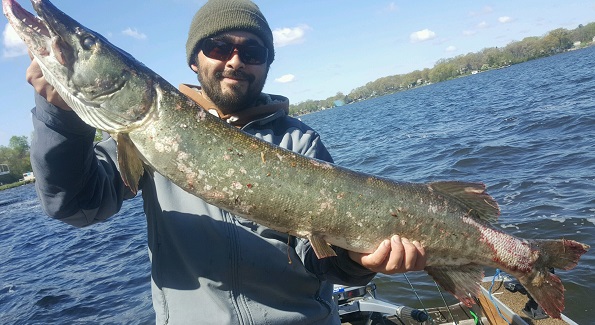 Here is a picture of the right side of the fish, he was obviously blind in the right eye which contributed to him not moving on baits presented to him on that side.

Our boat was torn as to what we thought the cause of this fish's look was. On one side we thought that the fish may be sick or have a disease, on the other we thought that it may just be a fish at the end of its lifecycle dying.
After the zombie was released, we fished our way to another spot we know has held muskies in the past under similar conditions. No wake kept us fishing all the way there. Musky baits switched to a safety pin-style spinner, Son-of-John switched to an inline, and I kept the same bait on. About ten minutes in to fishing our second spot Musky Baits calls out "Fish On." The fish inhaled his spinner right at boat side as he was going in to a figure 8. This healthy 37" musky had no chance at getting off before meeting the net.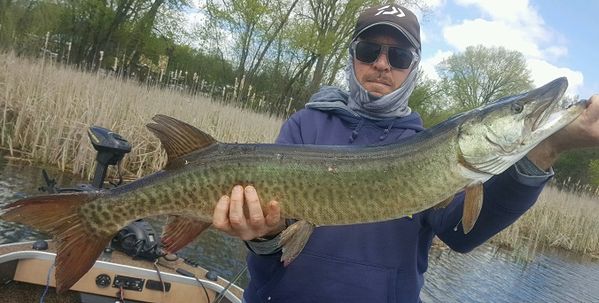 Now, with two fish on the boat within an hour , we were grinding to get a fish per person for the trip. We fished our way to the next point, and Son-of-John had a fish swipe at his inline. The fish came back and followed on his next cast, but Son-of-John just couldn't get the fish to commit. We fished for a few more hours with only one more flash. As we were making our way in to the channel to pull the boat Son-Of-John hooked up with this nice bass. At least we were all able to catch a decent fish for the trip. All fish came on baits the Musky Baits made.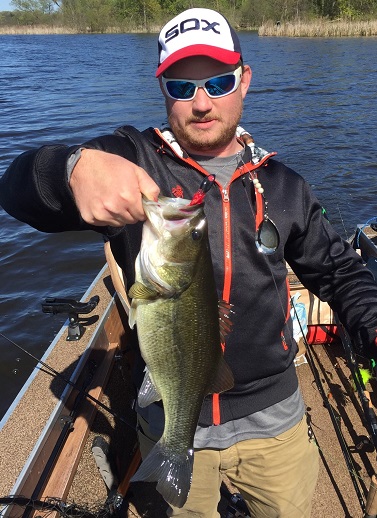 Baits that moved fish: