A few years ago I went on an Elk cow management hunt with Big E Outfitters, a few weeks ago they sent me an email letting me know they have a lot of management Does that needed to be removed, I forwarded the email to a friend and asked if he was interested, 2 weeks later we were in Northern Wisconsin being welcomed by Jim and Helen at Palmquist Farm, Brantwood Wis.
http://palmquistfarm.com/index.html
The Lodging was great,
Wake up to a Home cooked Breakfast, Our Guide, Brandon Eger, who guided for me last time, met us for breakfast and soon we were in the Field, we entered the 1300 acre Property, stopped the truck and as we exited the truck and started heading for the field we saw 2 Does just beyond some real tall grass, we snuck up as close as we could, I was up first, about 130 yds, First Shot was a little low but she was hit, ran out a little further and stopped, second shot as I squeezed the trigger she stepped forward, hit her back quarter, tracked her not to far in the woods, she laid down, First one down, Brandon had her field dressed in no time, put her in the truck and start heading for a stand, on the way there we see another Doe in the woods off the trail, she froze hoping we didn't see her, but we did, second down, again quick work and we were back on the move, didn't see much more the rest of the morning and we headed in for Lunch.
Before leaving for the field in the morning, Helen, asked if we would be back for lunch or if we would prefer to have a sack lunch, We opted for the sack lunch, after grabbing a bite to eat we headed back out and sat in a stand for a while, we got to watch a herd of 7 Elk both cows and a couple young bulls walk right under us and 4 or 5 bigger bulls in the woods that went around us on the other side, a little after they passed a Doe came through, number 3 down.
After field dressing that one we starting moving toward another field, the layout of the property is great, lots of large trails/roads, that come up on open fields, almost every time we snuck up on a new field, we would see something, Saw a few Real nice bull elk, including a very large white bull that had a HUGE rack, after sneaking up on a few fields we started heading back to the truck to move to a new area, we got back to the truck and headed up the same trail we just walked and there is a doe standing off to the side, we kept going and then doubled back to drop the 4th Doe, on our way out we again start walking up on a new field, nothing in the field, we headed back for the truck and on a cross trail was 2 does trying to sneak across, a quick "bah" they stopped and our 5th dropped.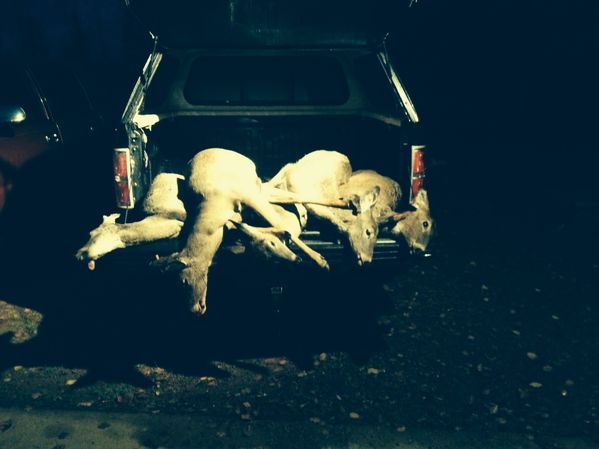 We headed back to the Lodge to hang the deer and clean up for a great Home cooked supper, Helen and Jim were great hosts, the accommodations were comfortable, and clean, there was a balcony that overlooked a pond, it was a beautiful scene and a lot quieter than I am used to, except for the Snoring in the next room.
Our Guide Brandon was great, he knows the property, he kept us moving and on track to get the deer we wanted.
If anyone is interested they still have a lot of Does they want to remove, Contact Patrick or Brandon at Big E Outfitters.
http://www.bigeoutfitters.com/index.php