Hunting this year was tough, birds were all over but hard to get on. Set up on the birds Friday morning but they were still with the hens so of course they decided to do their own thing. You'd think these birds didn't want to get killed lol ! put the stalk on the 2 toms with my Girl friend on her very first turkey hunt and I could see the excitement in her eyes. Id hit the trusty Wood Haven mouth call and boom like clockwork the gobbles would get closer. they were just across a creek an a little hill when one popped his big old red head up for one second saw my decoy and looked as if he was going to commit. I heard a hen cut just behind him and boom they disappeared. I got up quick told her to leave the decoy and we were going to run down and cut them off.
Here is where we saw the tom for one second regardless of not killing the bird this spot was absolutely beautiful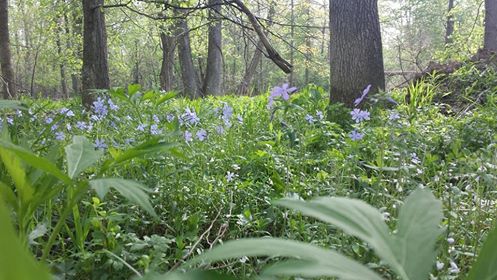 We run in full sprint down a tree line along the creek I hit the call and boom the gobbles began getting closer once again! we hopped over a massive fallen tree set up on it and the game was on. Id cut once wait 3 seconds cut again then go into a cadence and man did they love that! then I saw the hen pull the two toms away once again. I look at her she looks at me disappointed and I said wait well go get the truck and sneak in on the other end of this farm. I crawl over the log and tell her to stay low and explain to her their eyes are what keep them alive and they have great eye site. she says they are to far away stands up comes over and we begin to walk to my truck. It was only 3 steps when I saw 2 jakes 12 feet away. Of course the took of running and I missed, but that's why the call it turkey hunting

!!! she was so disappointed and for some reason is still convinced it was her fault, I tried telling her its hunting, @#$% happens but she took it pretty hard.
Saturday-
It rained and the birds refused to gobble saw a few hens and chased around a few long beard but they got the better of us and wouldn't commit.
Sunday-
We had no game plan and decided to go deep into a weed path and catch them gobbling.
We set up a few hundred yards short. about 545 the woods lit up with gobbles. we run over to where some beaver ponds are in the woods and pinpoint about 5 gobblers in one area. We begin the slow walk forward and we see them all in the trees. It probably only took 2 mins to set my little turkey thug chair up but man it felt like a lifetime. 20 mins goes by and we hear a shot about 900 yards away we thought we were busted but they still kept doing their thing. One hen was with them but she busted and flew straight over us after siting on the ground for 15 min. They all fly down and begin walking our way. We just hit the call enough to let them know we were their and that's it. I counted 8 jakes in a line walk right by us and thinking that's all their was got ready to take the shot on the closest one. low and behold my buddy says wait I see the long beards coming. it was quite comical to watch them run with their beards bouncing around. He hit the call and they fanned up about 40 yards in front of us. He shot and the bird looked like it got hit by a train no flopping nothing it just disappeared. My bird took off running away behind a tree. I leaned over and boom flipped him at about 60 yards. Those new Winchester Long beard rounds are great and not to pricey! not my first witnessed double but the first one I was a part of. I have never felt my heart pound so hard in my life. By far my favorite turkey hunt to date. We worked 3 days straight for them and boy did it pay off! I got one my buddy got one and the shot at first shooting light was my other hunting partner 3 birds before 730!
I don't know if you guys can see but I have never seen a turkey with his neck swelled up like that pretty cool lookin!!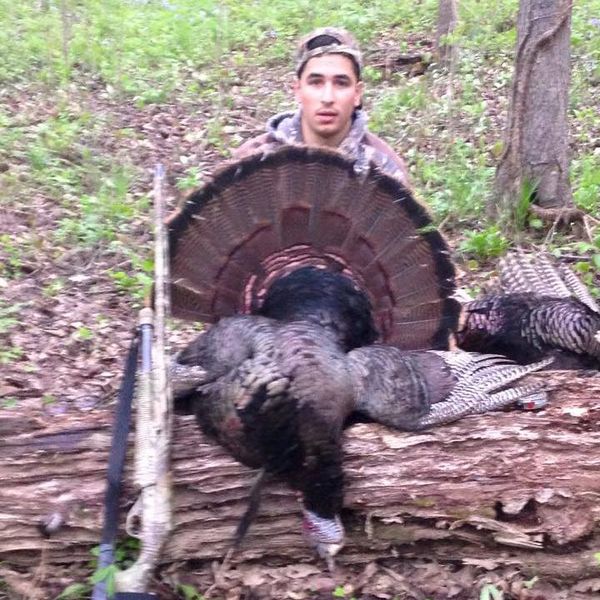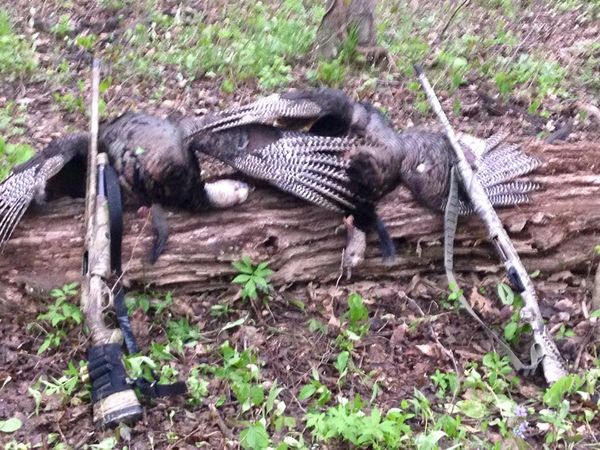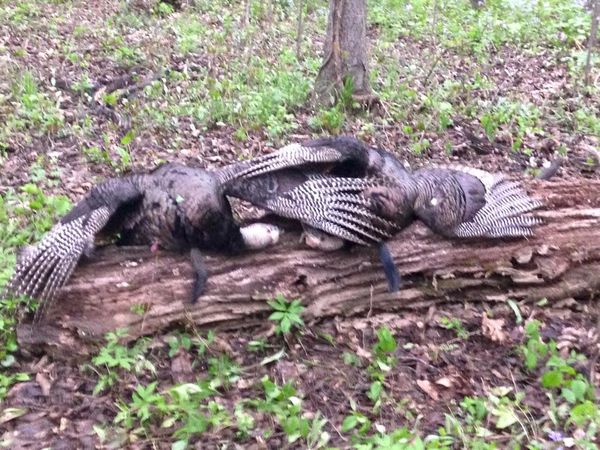 Until next spring Mr turkey we shall meet again