Let me start by saying that it has been a slow start to the season ice fishing for trout on the harbors this season... Until this weekend!
"the group" which consists of Grumpybear, Fish men, my sister, and myself fished 3 of the 4 days over the Christmas holiday in the midst of a stalled high pressure system. It had almost completely shut down the trout. We finally put a fish on the ice on monday with a 2:30 pm brown caught on a spawn sac!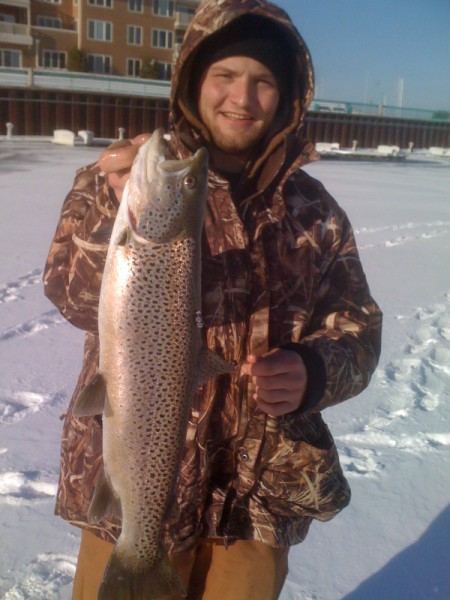 1-1-11 New Year's Day:
The morning started dark and early with us setting tip ups and homemade automatics in the dark. After a little time passed we got a beautiful view of the sunrise over the lake.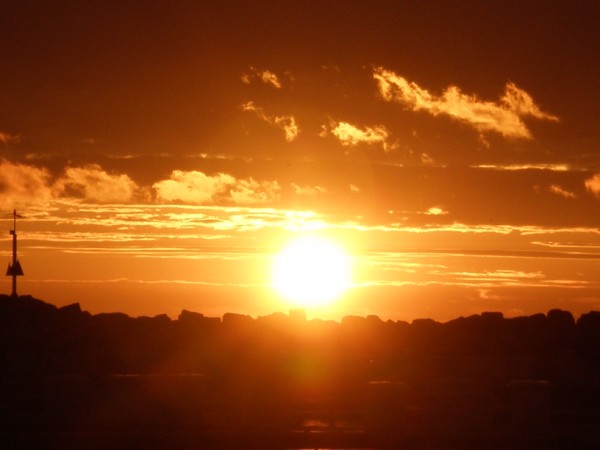 It was a windy morning with sustained winds holding steady at 25 mph and gusts to 35 mph, so we took cover behind docks and other wind breaks. The first fish came on a tube jig and waxie. Just a small rainbow (11 in) but a fish nonetheless to beat the stench of skunk off! This fish was turned back to the frosty depths to grow up.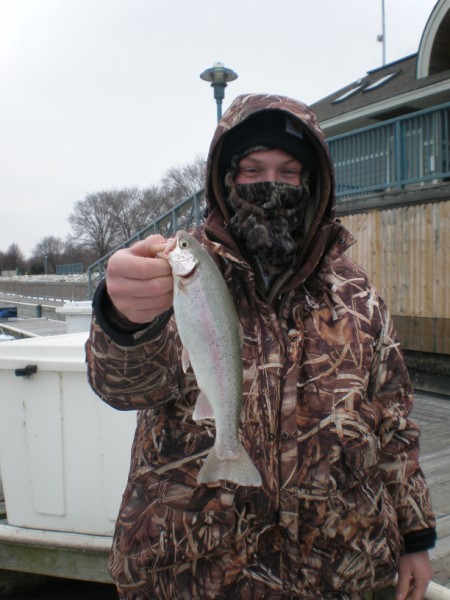 After another couple hours with no action we decided to relocate in hopes of finding some fish, even though they roam the harbor. lol.... But it paid off big time. Sometime after picking up all the gear and climbing over multiple docks to get to the new spot we set gear and a couple of us began jigging again. Mr. Grumpybear stated that his line was caught on the ice because he felt some resistance, next thing I hear is "Oh I got one!".
We were able to take a nice video of the fight and landing of the fish. I must apologize for some of the language in the video. Much of it is not audible, but still I apologize in advance.
Here is a picture of Grumpybear's Steelie, I believe it weighed in at 6 lbs or so.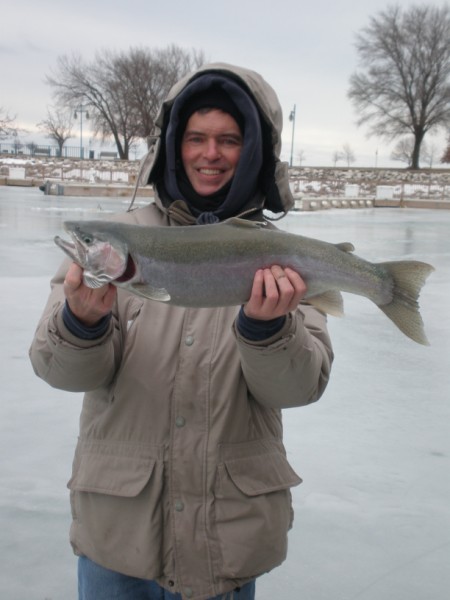 About 30 min after landing the first fish, a homemade automatic set rod of grumpybear's goes off screaming out drag. Initially Grumpybear picked up the rod and started fighting the fish. But he graciously handed the rod to Fish Men stating that it was his turn since he had already caught a fish. Very generous that guy! After a couple minute battle a beautiful hen steelhead was brought up on the ice with a nonconventional gaff job! Again a video was shot of the fight and landing and the same apology/warning applies.
Here is a picture with Fish Men and his first trout through the ice! This fish weighed in at just under 8 lbs!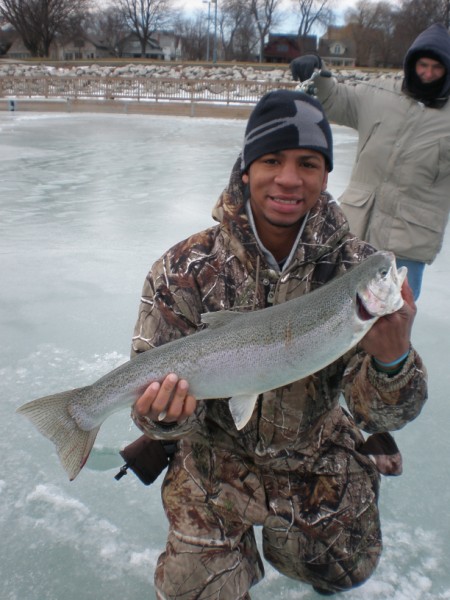 Unfortunately that was the end of the action for the day.
January 2, 2011:
Today started a little bit later since we decided that getting to the harbor before light hadn't yielded us any fish. We began setting gear just after the sun had come over the rocks and grumpybear stated that a picture of the sunrise over the gear is the definition of icefishing.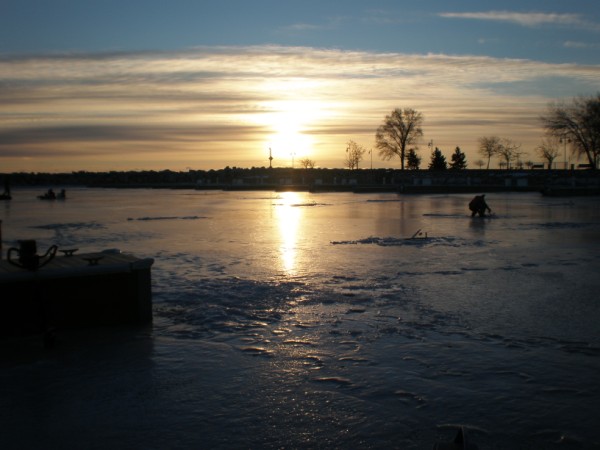 The action started about 30 min after setting gear with a great hookup on a dead shad close to the bottom on one of grumpybear's rod. He let my sister, Sarah, take the rod. She fought it beautifully but unluckily the fish snapped the line before we were able to see what it was! DANG IT! After that we had a few more flags and autos go off without any conversions! it was sad. Until Grumpybear said that it was getting to be about time for him to go, and he hooks up again with the jig and waxie! And the fight was on!
This big buck weighed in at 7.5 lbs, but this thing was a tank!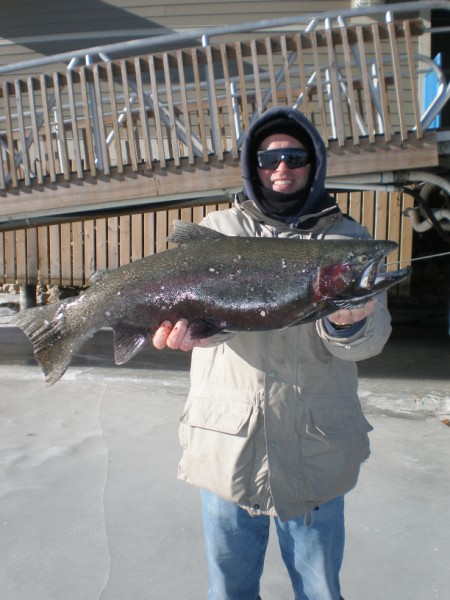 Shortly after grumpybear had left we had a flag go up. So we ran out to it and stood and waited for the fish to take line out since they seemed to only be pulling enough to set the flag off and just move the spindle a little bit. While waiting a couple minutes we noticed the automatic near the tip up had gone off which I thought Sarah had accidentally set off while clearing holes. She looked over and saw it and said she hadn't set it off when the rod started bending over. FISH ON!! Sarah picked up the rod and began fighting the fish. We had the gaff ready and when this beast popped out of the hole we were very surprised... A HEN COHO leftover from the fall run!! Her first trout, well salmon, through the ice!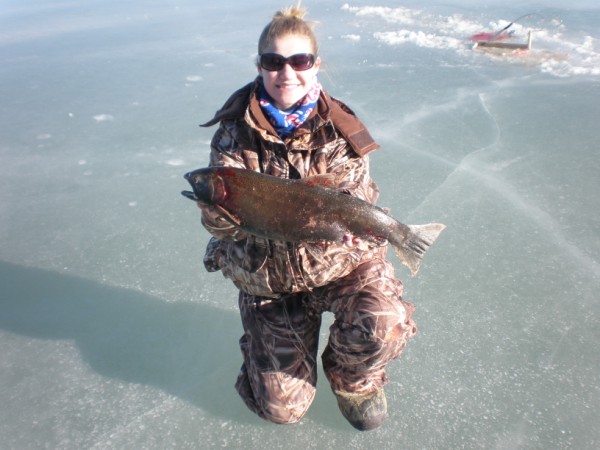 Caught on a piece of skein from the hen steelie from the day before
While attempting to take pictures of this fish, I saw the original tip up start spinning and after a short run I got over there and landed a sweet little 15 in rainbow which became dinner that night! YUM!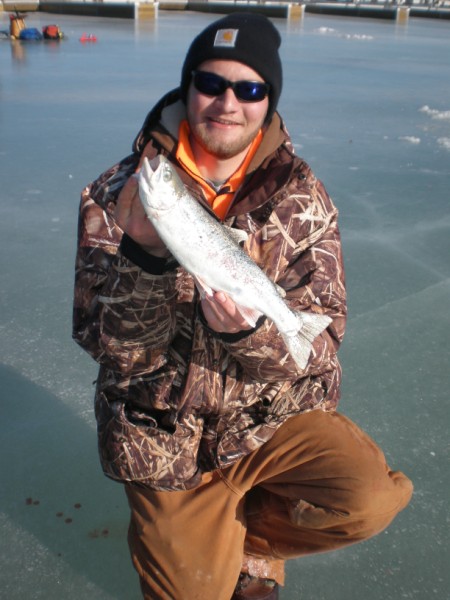 This fish was caught on a cut piece of cooked shrimp. We figured out that the smaller rainbows were probably the fish that were setting off some of the tip ups and autos throughout the morning. After those two quick fish we had a lull in the action so I ran up to a local fast food spot to get some foodage. While driving back I thought to myself that I hoped when I got back they would have a fish laying on the ice... and when I pulled into the lot I saw 3 people standing in one spot out in the spread and a quick flash of silver! ALRIGHT! a quick little fist pump for myself and time to make my way back onto the ice, food in hand. Turns out they got another small steelie/rainbow which came in at 18 in so even bigger than the previous one. This one was also caught on cooked shrimp on the same tip up as the previous small one. Sarah got this one too! Her second trout/salmon through the ice!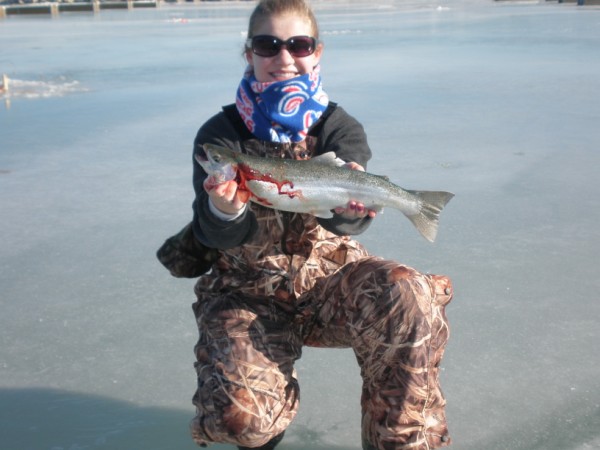 That was the last fish for the day, but we did stay out until sundown in hopes of another fish or two.
January 3, 2011:
Again we started around sunrise, but today it was only a crew of two; Grumpybear and myself since we had the day off of work. We set gear right away and before the last tip up was set we had action on one of Grumpybear's rods, but it ended up a miss. Dang 0-1. A few minutes after setting gear we decided to go clear ice from the holes as it was cold and the holes were icing up quickly. On the return trip we saw that the closest auto to basecamp had gone off and upon walking closer to it, the rod doubled over. I told him to grab it but he insisted I take the fish. So I obliged and after a 10min or so battle this pretty buck rainbow hit the ice.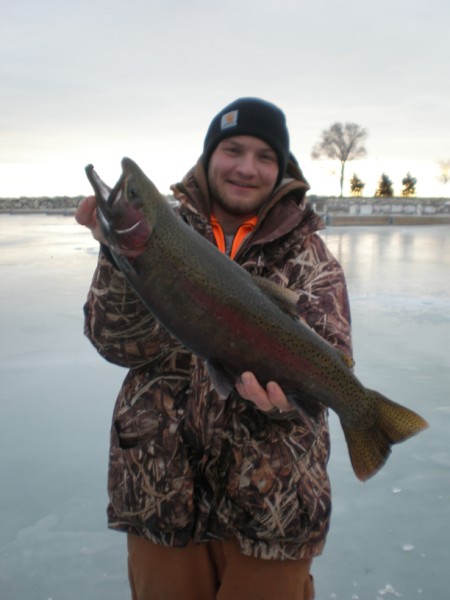 Unfortunately this was the first and only fish for the day as the bite died at 9:30am. We finished up going 1 for 5 today which is a good day for us still, but we were spoiled by success from yesterday! Thanks again to Grumpybear for a great day of fishing and for the awesome birthday gift! Thanks!
Overall this long weekend we finished up with 9 total trout/salmon! A great weekend which gave us a glimmer of hope for the rest of the season. And a great start to the 2011 fishing year! Goodluck to the everyone!