The seminar will be on the use of crawler harnesses on planer boards and on bottom bouncers.
Hey guys! I finally got a few hours here to sit down and load up some pics and type up a report. Sure have been busy since we got back!!! Parties, travel softball, you all know the drill!
So anyway we had another stellar trip this year. Weather was perfect and the fish cooperated nicely. This year we had 6 boats in our group. We boated roughly 520 walleye!! Personally my boat landed 98 fish in the 5 days for 122# of fillets.
Here is Steve with a 29 1/2" 'eye.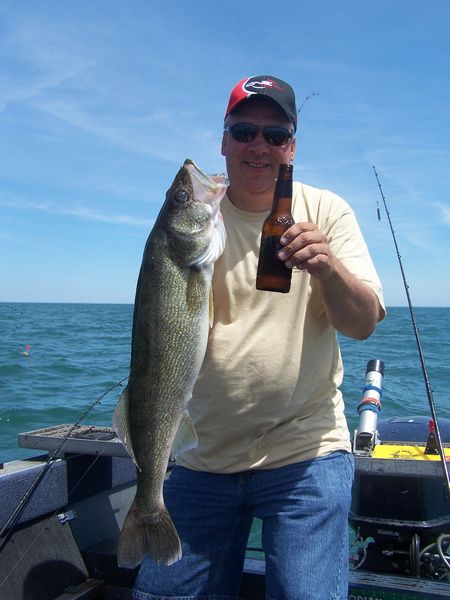 We boated 2 29 1/2" fish, 6 over 28 and plenty of 24 to 27 " fish.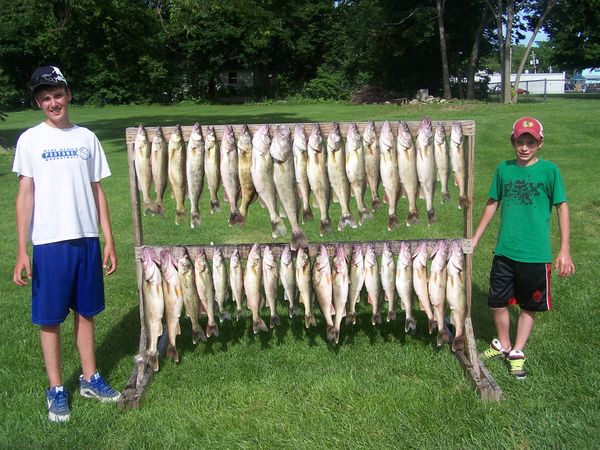 Fishing was slower than last year, maybe it was due to the mayflys really starting to hatch. There were clouds of them all over the graph and the last 2 days the husks were covering the surface of the water in many areas. When the mayfly larvae begin to migrate from the bottom to the surface the walleye fishing can become tough. These fish feed heavily on the larvae.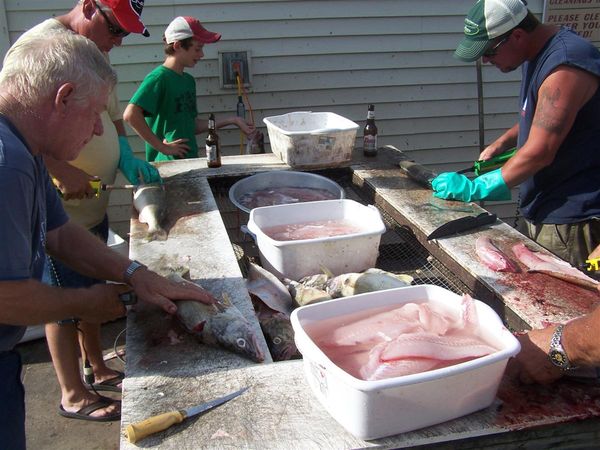 It took longer to limit out each day than it had in the past 2 years. 8 to 9 hours of fishing to do it so we never had any time to fish for smallies or white bass. They were not commiting to the strike as well and we dropped 12 to 15 walleye a day, many right at the net. Talk about frustrating!! The sheephead were the worst they have been in a while too, maybe the mayfly hatch had something to do with this as well? Probably caught 20 a day and they are not small, some were over 10#.
Here is my 29 1/2"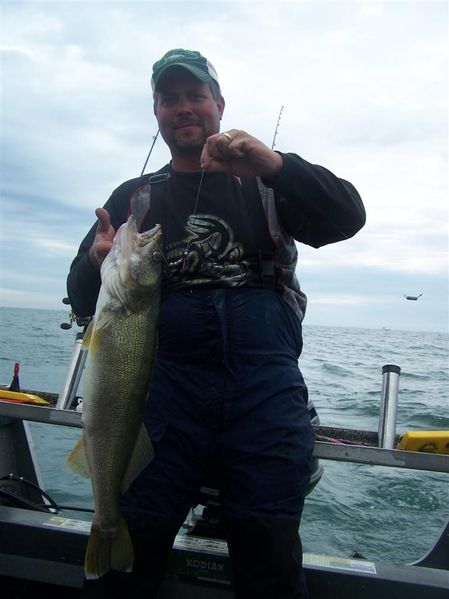 We stay at the Beachcliff Lodge on Catawba Island.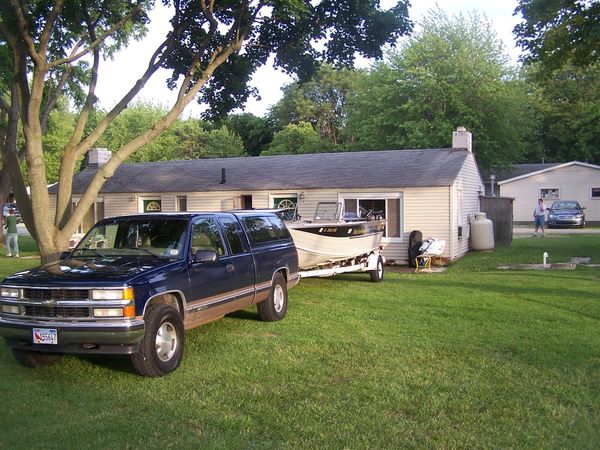 We ate well too!!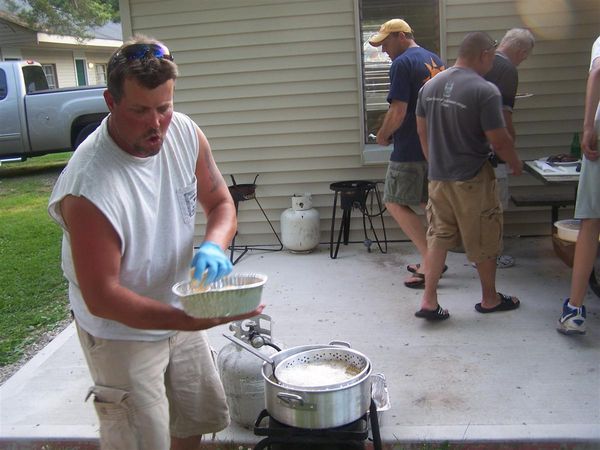 Another nice limit.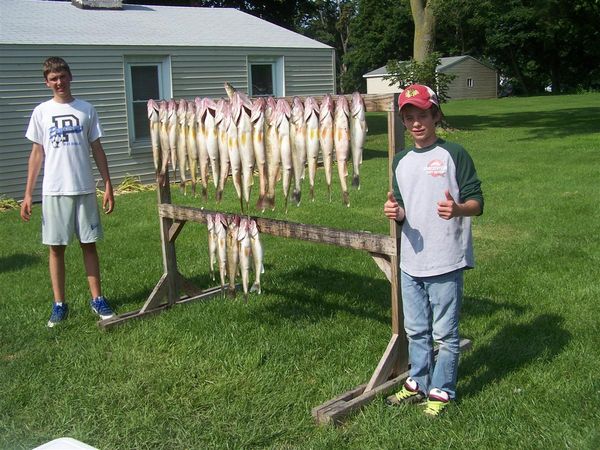 Here is my buddy Dan with 2 pigs. He had a 43#, 5 fish limit on the second day. Too bad he doesn't fish tournaments anymore!!!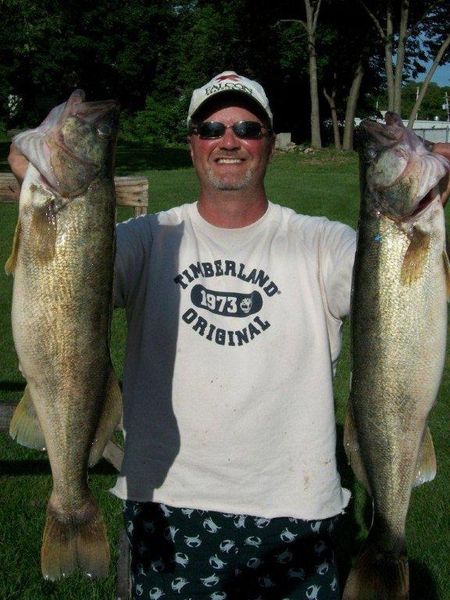 Another limit.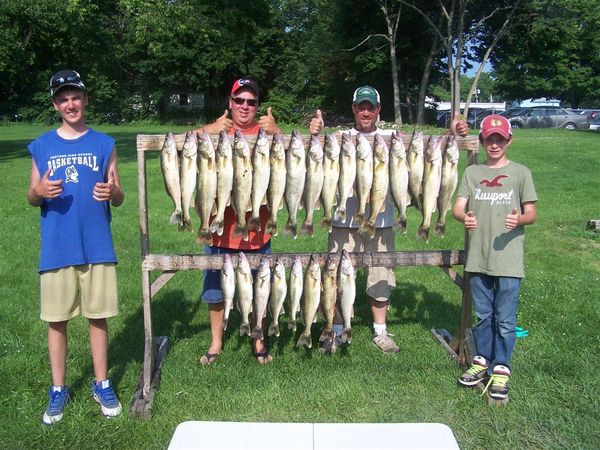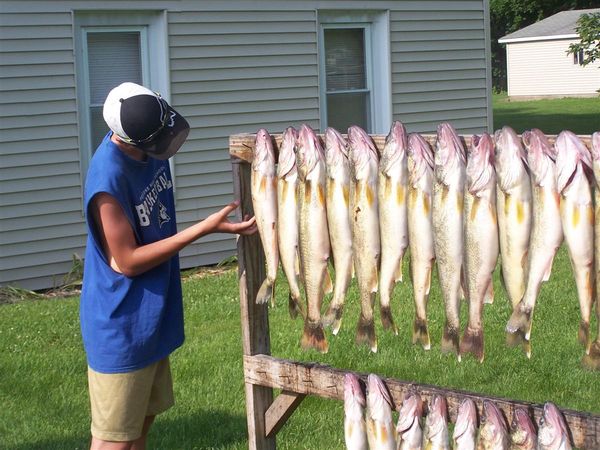 We will be giving a seminar on exactly how we do this type of fishing. It will be at the Walleyes Chicago meeting on July 15th, 7pm at the New Lenox VFW.
All fish were caught on crawler harnesses on planer boards and on bottom bouncers. We fish NE of Kellys Island.
We will cover depths, presentations, speeds, locations, rigging, rig making and whatever else we come up with. We will have rod and reel combos, rigs, rig components, maps with gps locations pinpointed from the last 3 years hot spots and more. Please come with a pen and paper and all your questions, we are there to help you in anyway we can. Anyone can put a trip like this together!!
Hope you enjoyed!!