Went to Montrose today for a short trip (between dropping off my wife in Glenview at 9 AM and starting my 2nd shift at 3 PM). I put out only one line, 21 hooks, alternating huge minnows and nigh crawlers from last night's harvest, 2 bobbers set at 4 feet, plus 2 feet on the leaders, so I was fishing about 6 feet under

.
Nobody was catching, so after I finished setting up I went away for 10 minutes to unload some weights. On my way back I saw the guy next to me (it was his first time powerlining, I shot his weight out, he doesn't have a tank) next to my rig, waiving at me. I assumed I had a fish and I yelled at him to pull the line while I ran back. Apparently I did not have to do that, the fish on my line swallowed the minnow and the hook and it wasn't going anywhere, except out of the water in some nice aerial jumps.
At 24", it wasn't that long .....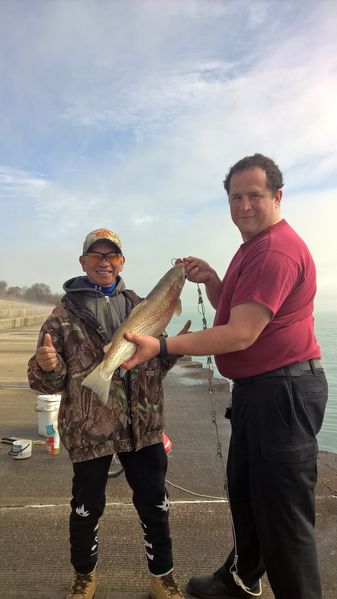 ..... but at 7", it was wide. That's why the scale showed it at 8lbs, 4 ounces.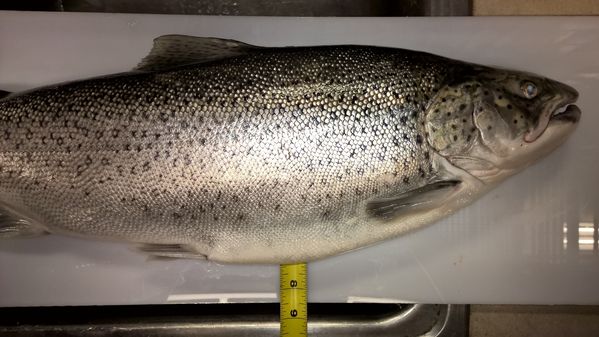 After I pulled my line out and I was ready to leave, I see the guy next to me (he was fishing with two poles, but he was also powerlining) yelling and grabbing his pole, stopping it from being pulled into the water. I grabbed my net and went to help him, but the fish went toward his other pole tangling his two lines, so I dropped the net and reeled the other line in as he was bringng the fish in. Another guy came and netted the fish, who turned out to be a nice size laker, about 30".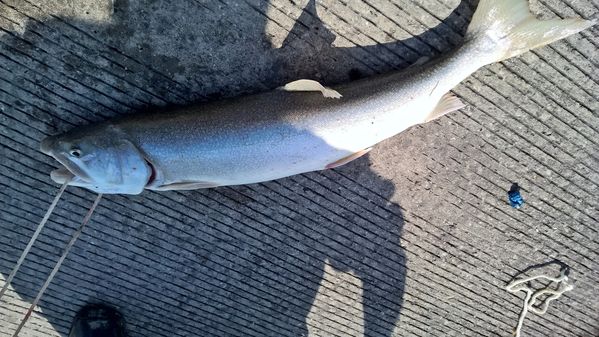 Apparently today was a repeat for him, he caught a bigger laker yesterday.
If the weather cooperates I will be back out there on Friday.