Yes indeedy, it was so nice we stayed an extra day. We caught hundreds of Crappie over our four day stay.
For the less particular coolers full of 8 1/2 inchers and under could be had with very little hunting.
We were greeted by J. Williams and crew going out as we were coming in.
We decided to stay with 9 and over We brought home 55. GH had the top fish with a 12 incher the first afternoon braced by a nice 11.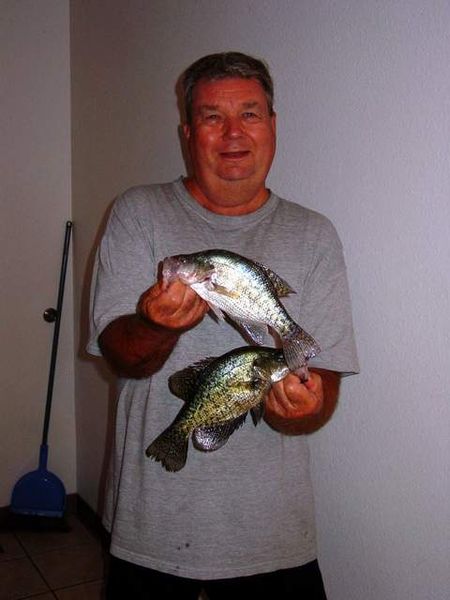 I kept six of "Keepin size plus a Striper and a Kitty Kat.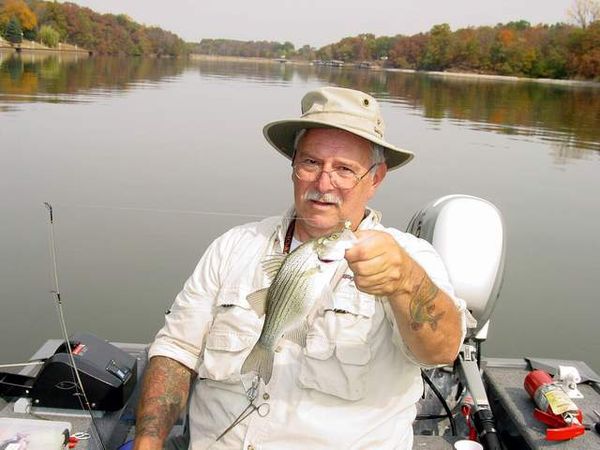 I had a crazy sleep night on Monday and ended up back out on the pier for a few hours catching smallish Crappie and a couple of 'Gills. I was one tired pup the next day. I remedied the sleep problem the next evening at Wal-Mart. GoT me a nice Air matress to suppliment Anthony Acres plywood mattresses.
Oh, the second day fishing was great. We did a little tree huggin' and brush whackin' along with
dock casting. I have to tell ya, even with the water being almost 3 ft. low, we gave a bunch of minnows a migrain bouncing them off the docks.
We had a very productive day with Crappie, Stripers a few cats and a few 'Gills.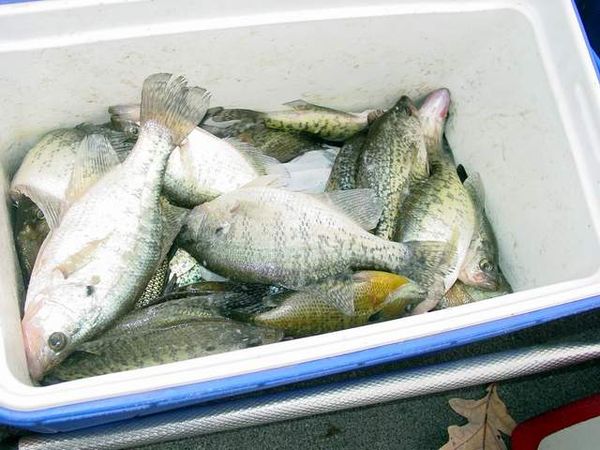 Being that it is close to Halloween, this "Punkin' Head" got his p[icture taken before going back home with a free minnow for trick or treat.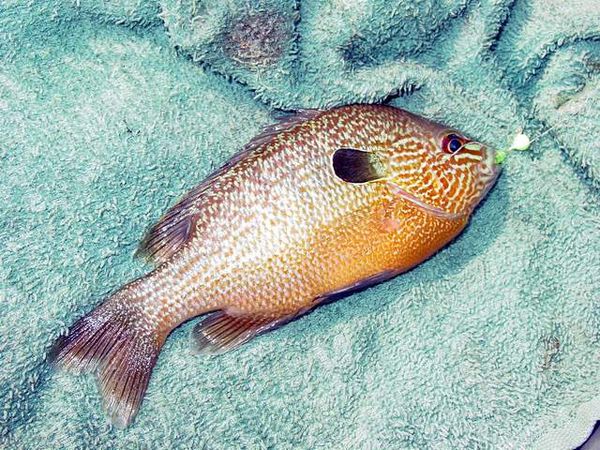 Day three and things just kept gettin' better. ( 'cept when one of my Ugly Sticks decided to "Jump Ship" )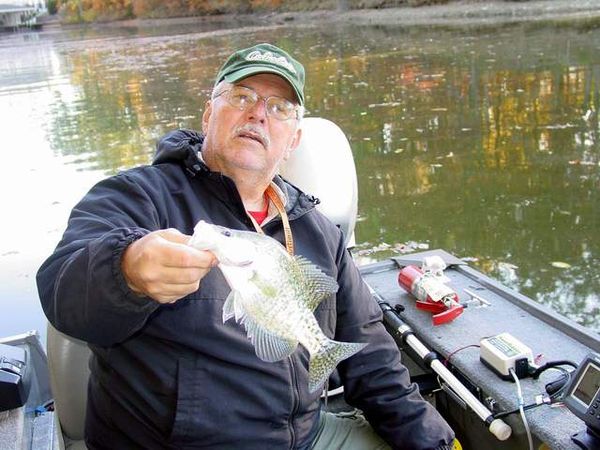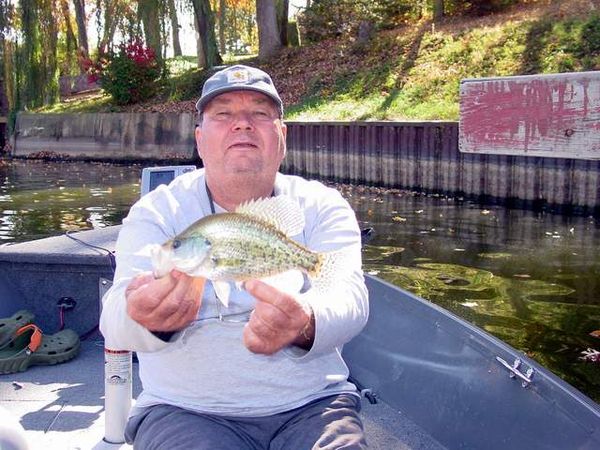 The boat ran fine and didn't seem to care about lugging that extra 8 horse around just to get some running time on it.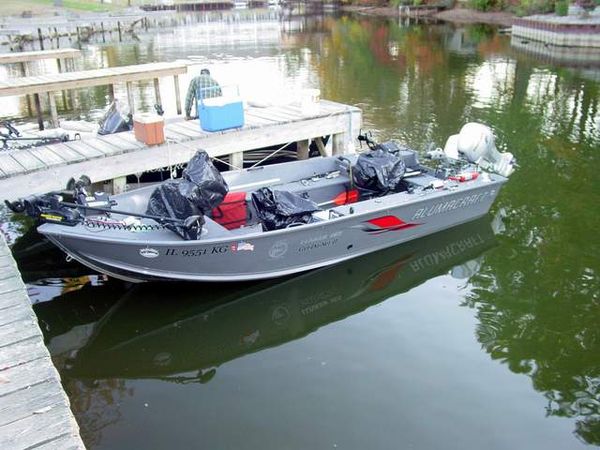 You can see in the photo how far the water is down. Great stuff for us dock plumbers.
The morning of day 4..Thursday was the best 4-5 hours of Crappie catchin' of the trip.
They were surrendering at an amazing rate. I even got to hold up a pair of Good'uns.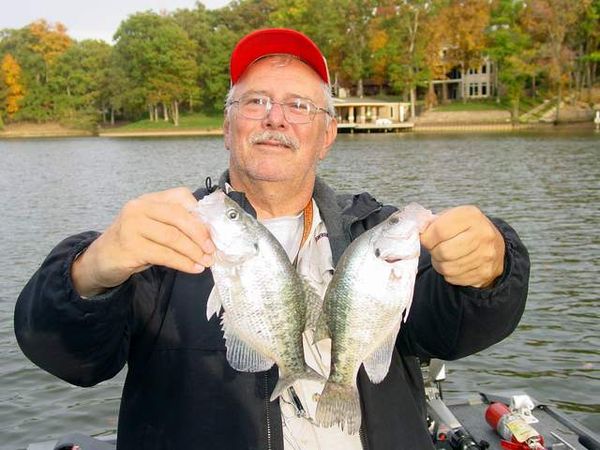 The accidental Striper catch wasn't too bad either. I think we kept 8.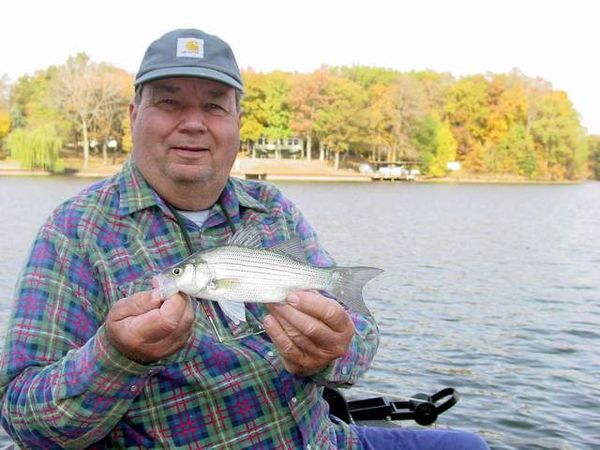 We should have never gone in for lunch. I tell ya, sumthin' happened. I don't know if it was the wind and weather change or the Blue water minnows I bought at AA but catching fish the rest of the day was like pulling teeth. Nothing keepable for the rest of the day, but there was nothing to complain about because we just had one of the best trips to Lake Sara in my 25 something years going there.
This a.m. we slept in ( or at least I did ). Chef Angelo prepared a liesurely breakfast then we packed up the Hemi hitched up our wagon and headed for Chi-Town. Just might make it back in a week or so. If not, I couldn't complain one bit.