This highly anticipated trip with son #1 for his birthday got off to a good start, but the ending.......not so good.
We did hit the gun range and satisfied with our results, headed out to Delevan for some fish, or so we thought. Seems the lake is about an hour's drive from the range and with the address of Fontana boat launch loaded into the phone map program we set off. While the timing was right to grab some lunch at Chuck's before we launched those bacon cheese burger were really sounding good on the ride there. Once close to the lake we did encounter quite the bicycle parade of sorts, they were everywhere we looked. While turning on lake shore drive it became VERY apparent that we will in the midst of some sort of celebration in which the two wheeled devise was the primary means of travel, not to mention looking about the lake at the civilian navy playing war games on the water. Rounding the bend we caught sight of Chuck's where we planed out lunch....... There was not a patch of grass that was not covered with people and bicycle's, kinda looked like woodstock with hippie's.
So out planned lunch was out, but continued towards the address of launch that was gotten off of the lake link site.............strike two
Address must be of the owner of the launch as it was a condo building.........dang
Ok, so Wsj figured we could save the drive/day by going to delavan, so off we went in that direction. We did find a gas station close to Chuck's that did sell non-ethanol fuel (that was the ONLY nice thing about the drive though that town). Did not have an address for the launch and of course we drove right past it, but in our turning around..........finally some good news. Little bar/grill called Pirates Cove was our turn around spot. Saw a Silverado with a lund boat hanging off the back end and told son #1 that he has good taste in trucks/boats might have the same for food, so we ventured in.
That place was gold mine, homemade burger and fries and reasonable cost, I even asked my son if we should just call it a day and watch football. Logic won and we left and found the launch. Once on the water it became very apparent that fishing was going to be tough with the 2' plus chop on the WHOLE lake from the army of boaters on the water. We tried in vain to find some calm isolated water and then just said let's do what we can. Those dang boats will come within 30' of you while sitting still, I just can't handle that type of water pressure. We lasted about an hour and did catch a few fish ..........VERY FEW.
Size and type of fish is about what I expected once on the water.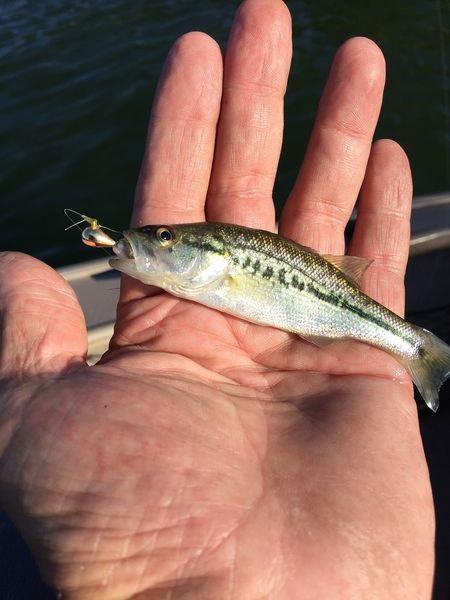 Will never do a weekend summer trip to either lake again.
Food was great and beer was cold.........nuff said.
wsj