Took my buddy Chuck who hasn't got to fish much this year out to Heidecke to catch up on old times and see if we could catch some fish in the process. Started out pulling rigs and bouncers over the rocks and humps and with only dink yellows to show for it. The wind picked up which made things rough with the pulling and I wanted to get him on some fish so decided to try our luck hunting down some stripers. Went back to a couple spots where we had marked some nice shad schools and started working the area and before long we had a double in the boat.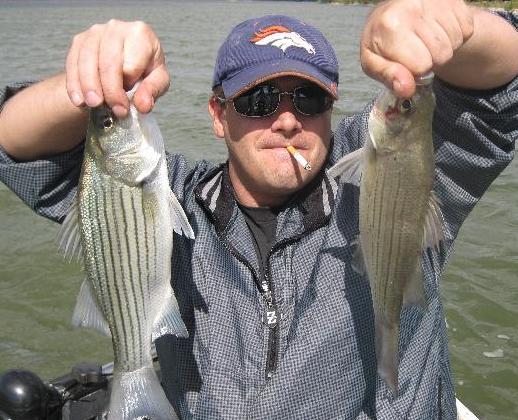 We kept chasing the mass of stripers around and eventually we ended up with a nice one of these..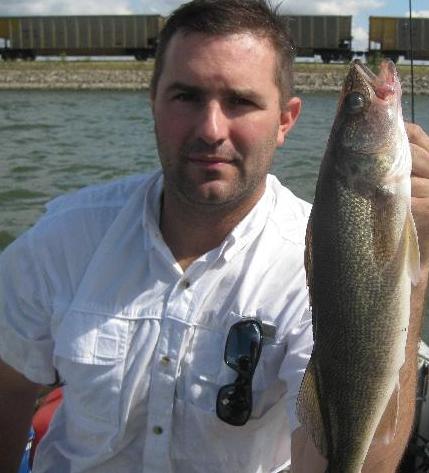 We just kept chasing the school and as soon as the mass would show up on the finder sure enough a striper would bend a line. I had just set out one of my lines and began to start on the next when in a flash, the rod I had just set flew out of the holder and into the water. In my rush to get the other pole out I had not seated it properly and away it went. I tried to grab for it but missed, but with a quick hit of the "mark" button on my GPS I knew where it had gone. We did a big circle and I told Chuck "let out as much line as you can, we are getting that pole back." And so we started dragging the area, we went back and forth over the area for about 15 min when a weight loaded up one of the poles and I began to real it in.. It was power pro line.. I started pulling on it feeling for the heavy end and soon my rod and reel appeared. We high-fived and I began to real the line in when I felt a weight on the other end, seems there was a fish on..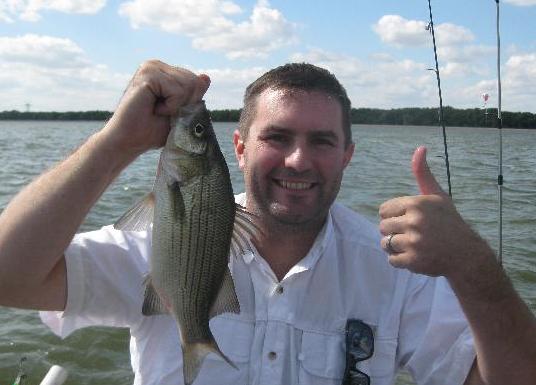 So I got my rig back, and a fish to boot.. not a bad day in my opinion...