The crew consisted of me, my dad, and a good friend of mine from college who never fished the big lake before. Got the harbor by 4:30 AM and launched the boat a little before 5 AM and motored out to 140 going southeast. Ran an 8 rod spread. Reached 160 with nothing being marked on the graph. I made a decision to go to an old mark in the 120 ft. area in front of the Nuke and found a small amount of fish there without any boat traffic. By that time it was 8 AM.
I reeled the first fish on the 10 color and got an eater size coho. Reset the same rod and not even 10 minutes later it starts screaming. I handed the rod to my friend and he was in for the ride of his life when we saw the fish jumping out in the distance. Netted a fat steelie and the look on his face was priceless!

Hottest rods were the 10 color with a caramel dolphin spoon (but the caramel color is mostly gone since fish keep smacking it over the years of fishing with it) going 2-2
5 color rod with an orange spoon caught a small coho 1-1
Braid dipsey out 120 on 2 setting with a 00 orange dodge and green peanut fly caught another eater size coho 1-1
Had a drive by on the SWR with a Hey Babe spoon down 90 ft. but it did not connect
Circled that area for a couple more hours. Left around 10:20 AM when the wind started to pick up from the SW with 1-2 ft chop.
It was pretty cold out there. Out deep, water temps were close to 40 degrees and by 120 FOW, it was around 41-42 degrees. Ended the day going 4-5. 3 cohos and a steelhead
Fishing was hit or miss out there but based on what people said if they found a pod of them out there it was pretty easy to limit out. Fishing seemed pretty hot by the south reef by Waukegan based on radio chatter.-
Biggest fish of the day. I guess you can say he is hooked now!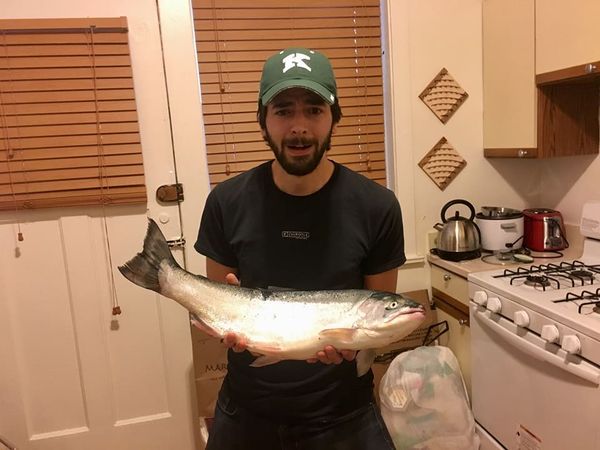 It is a great feeling to show someone who never fished this giant lake before the pretty cool fishery we have here right by our backyard.